Our Story at DingDong Greeting Cards.
We created DingDong Greeting Cards because even though we are quite busy we loved images from the mind of Kinnebrew as well as the humor he and others shared. We started sending them to our friends. One thing led to another and voilà, here is this new business that we now share with you.
We are serious about quality. The papers and inks are archival. We use an exclusive 8 cartridge dye base ink system that has a 300 year life span. And yes some people frame them.
You too can send images to your friends and – well – with words and greetings that have a little twist if you choose. You might look at the On The Edge Portfolio and holiday cards too.  EMail is great but there is nothing better than the daily image reminder from your friend on the refrigerator door. We have several special projects in the works and on the table so stay tuned. Kinnebrew may be in his 70's but as one critic wrote, "He is still the hardest working artist he has known". We can tell you he always has more images up his sleeve and a rather irreverent sense of humor.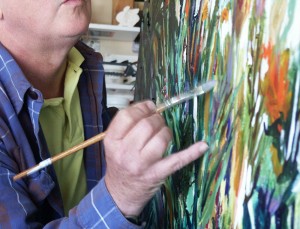 Our most special thanks to Deborah Wood, writer, editor and gentle critic
and Mark Jacobson at Intergraserve the patron saint of IT and all things of the net. Without them we would never have come so far.
Please don't ever leave us guys as we will always be needy.
Now that you've read our story  it is EASY TO ORDER all Card Descriptions from DingDong Cards and don't forget to use the coupon discounts.